Books
Overview
Free Download ebook: Millionairs Shopping guide
DVD: Cosmic Ordering – Why it works
Book Cosmic ordering the next step
The Cosmic Ordering Service
Cosmic Ordering for Beginners
The Wishbook
Cosmic Ordering: The Next Adventure
Cosmic Ordering: Complaints to the Universe
Instant cosmic Ordering: Using your emotions to get the life you want
Cosmic Ordering Oracle Cards
Positively Happy: Cosmic Ways to Change Your Life by Noel Edmonds

books available in German
Free Download ebook: Millionairs Shopping guide
Shopping Guide for Greater Inner Wealth
For Millionaires…
The intention of this book is really to enable millionaires and other wealthy people to gain greater inner wealth. The problem is: Everyone wants to get rich, but no one teaches you how to stay happy after you have finally become rich. It is not as easy as one may think. And, what is more: When we lack inner wealth, we tend to feel empty. When we have a lot of money, we are always tempted to fill this inner emptiness with lots of things that we buy or invest in to make us feel important. But, strangely enough, that feeling of emptiness does not go away through these actions…
However, with a world in which we have a kind of swimming carpet of plastic garbage the size of Europe in the Pacific, and 600 000 pieces of electronic garbage sailing around planet Earth (old satellites, for example) we need people with stable inner wealth, who are able to invest in things that heal the planet. It is possible; there are already endless possibilities. My next book is about these possibilities: How to make money in a way that serves the world. (It is only available in German so far).
But this book here is about the first step: How to gain more inner wealth and finally feel fulfilled instead of empty.
Surprisingly enough, the book really reached the target group in Germany: Many millionaires have read it, and some of them connected to check out new investments.
If you are either an inventor with great new inventions (ones that work already – we have seen too many ideas that never worked out in the end), or a millionaire who wants to connect to the German investors and inventors (those who have not gone bankrupt yet – unfortunately most of them got into trouble after the crisis), then you can get in touch with us.
Free Download ebook: Millionairs Shopping guide
DVD: Cosmic Ordering – Why it works
Cosmic Ordering is the powerful method of tuning into the Universe to turn dreams into reality. After introducing this powerful and effective method for manifesting your desires in the bestselling Cosmic Ordering for Beginners, Barbel expands on this concept that seems too good to be true – but nonetheless works.
In Cosmic Ordering: The DVD, world famous authors, doctors, scientists and musicians including Gregg Braden, Esther Hicks, Ervin Laszlo, Jude Currivan, David Hamilton, James Redfield and Louise L. Hay talk with Barbel about how it works and the ways they use it to improve their lives – and how you can, too.
Book Cosmic ordering the next step
Cosmic Ordering is the powerful method of tuning into the Universe to turn dreams into reality. After introducing this powerful and effective method for manifesting your desires, Barbel now takes you further with Cosmic Ordering: The Ultimate Guidebook. With new and exciting ways to make Cosmic Ordering work for you, Barbel takes you further than you have ever been, and shows that the only thing that stops you from achieving anything your desire is your own imagination.
The Cosmic Ordering Service
The book "The Cosmic Ordering Service" has been #1 on the German Bestseller list for spiritual books for more than 18 months! Two other Baerbel books are also on that list! Forget the draining, time-intensive process of programming your sub-consciousness: now we simply order with the universe, just like any other mail-order-service! And you don't even have to be convinced that this method will work for you! It's enough to allow for the possibility and then place a test-order.
(the picture shows the british cover, the US version looks different)
Cosmic Ordering for Beginners
The inspirational book by the bestselling author of The Cosmic Ordering Service, the book that helped Noel Edmonds achieve his dreams. It provides people with a really accessible grounding in the ideas and techniques that you need to effectively tune into the positive energies of the Universe.
Imagine being completely responsible for your own life, not living according to your conditioning and negative thoughts. This extraordinary book explains how 90% of our behaviour is determined by our unconscious. If we can change this inner automatic behaviour we begin to realize that everything is possible. This practical and profound book contains a great selection of techniques and ideas that you can combine in a variety of ways to make a programme that really works for you!
This book includes an exciting audio CD of Barbel lecturing and leading guided meditations to help people increase their ability to tune into the energy of the cosmos.
Barbel Mohr wrote The Cosmic Ordering Service for a small group of friends and distributed it as photocopies. Since that time she has become a household name in Germany and regularly lectures and appears in the media there. She is the author of several bestselling books.
Clemens Maria Mohr (no relation to Barbel) is one of the top business and sports coaches in Germany, with over 15 years experience. His clients include the German skiing team.
The Wishbook
This beautiful inspiration diary builds on the success of "The Cosmic Ordering Service" and provides people with the daily inspiration and keys that they need to bring their wishes and dreams into reality. Each day has an inspirational thought or instruction and Barbel has marked times in the diary when she will be tuning in with people and helping them bring positive transformation into their lives.
Cosmic ordering: The next adventure
The phenomenal success of Barbel Mohr's bestseller The Cosmic Ordering Service transformed over a million lives around the world, including the life of TV presenter Noel Edmonds. If you long to meet Mr Right, are tired of counting the pennies, or stuck in a job rut, isn't it time you took your destiny into your own hands? This book will show you how to make your wishes come true.
First picture: British cover, second picture: US-cover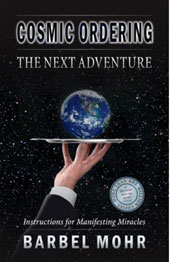 Cosmic Ordering: The next adventure provides a deeper illumination of the techniques you can use to place an order with the universe – you just need to decide what you want, and then sit back and watch your wildest dreams become reality. Packed with cosmic ordering success stories and extremely simple, yet effective recipes for creating the reality you want, this book will show you how to realise miracles. Barbel will also shed light on any lingering questions or doubts you may have, and analyses failures – demonstrating how to release deeply-rooted misgivings that may prevent successful ordering. Discover how cosmic ordering can work for you, and change your life forever. ISBN: 0 340 93333 X www.hoddermobius.com Non-Fiction: Self Help £6.99
Cosmic Ordering: Complaints to the Universe
For the thousands of people around the world who bought THE COSMIC ORDERING SERVICE and the user's manual THE COSMIC ORDERING GUIDE BOOK, here is bestselling author Barbel Mohr's third book, in which she explains what to do if you have placed your order but haven't seen results. Rather than bombarding the cosmos with repeated orders, Mohr advises readers to complain to the universe. She coaches the reader in wish fulfilment and explains exactly how to complain when wishes don't get delivered. Packed with tips and techniques to cope with delivery delays, this also clarifies the small print of cosmic ordering and where you might be going wrong. 'Help the universe help you.' (The Daily Mail )
Instant cosmic Ordering: Using your emotions to get the life you want
Bestselling author Barbel Mohr's books have sold over a million copies worldwide. She is the creator of the 'Cosmic Ordering' technique and author of the original book which Noel Edmonds credits with changing his life and dramatically improving his fortunes.You can work on changing your thoughts, but if you don't change the way that you feel about things nothing will improve. In this fascinating and accessible book Barbel and her husband Manfred Mohr explain how to use the power of your emotions to attract to yourself the life you dream of, but didn't feel was possible.
Cosmic Ordering Oracle Cards
This beautifully illustrated oracle of 52 cards by the creator of "Cosmic Ordering" is a fantastic method to develop a closer connection with the power of the cosmos. Picking a card each day will help you focus your intentions and create the right mental attitude to attract the life that you truly desire.Barbel Mohr is the woman credited with inspiring Noel Edmonds to change his life and fulfil his dreams. This is the first card deck that she has created in the English language and is the ultimate way to improve your cosmic ordering skills
Positively Happy: Cosmic Ways to Change Your Life by Noel Edmonds
This is the book Noel Edmonds wrote after his experience and fantastic success with my first book "the cosmic service".